Group Transportation Simplified
All sorts of organizations in Laredo Texas use services Sunstar Charter Bus Laredo as a way to make it easier to offer transportation. There are a large number of benefits of renting a coach bus. A few of these can be enumerated as the reduction in the number of people who would pass on an event because of having to provide their own transportation, everyone arriving at the event at the same time, and so on. There are many instances when you can use a charter bus rental service in Laredo Texas.
Renting Charter Buses is Our Specialty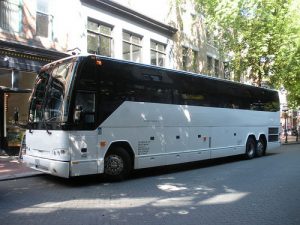 There are all sorts of reasons why you need to take a large part of the congregation to somewhere. It might be a church picnic or a volunteer opportunity. No matter what the reason, you would like to ensure that everyone feels like part of the community. This would also mean that you would like to use a bus coach and instead of making everyone to fend for themselves and meet at the agreed upon destination.
One can also choose to hire a bus coach for corporate events. Conferences are notorious for making everyone find transportation. This could be easily simplified by hiring a bus coach for your employees or clients. Now, you can avoid this risk of people not attending the event. So, be a responsible employer and provide transportation with bus charter services for the work conference, holiday party or team building and ensure that more people show up when the transportation is covered by you.
Nevertheless, school outings do not necessarily mean that you can and want to hire a school bus, in particular when the venue is at a distant place. The bus charter services can provide a comfortable form of transportation and students can enjoy the music and movie on their way to sports meets, field trips or even band concerts.
If a large group of friends wants to go for an outing, they can hire a coach bus. You can frequently plan a get-together or picnic on the weekends with all your friends and family members and use the Sunstar Charter Bus Laredo services. This makes easier for everyone as they do not require taking their cars separately and can enjoy playing games together while they reach the spot. Using the bus coach for a family get together is also a very good idea as no one has to pile into the few vehicles because you give everyone the space they need.
Travel With Us
The driver of any Bus Charter in Laredo, Texas, USA should have an incredible amount of knowledge, not just with regard to the area roads so they can navigate around traffic delays, but of the area itself. Guests can ask questions about places to visit, what they can do if they're not native to Atlanta, and much more.
Bus Charter in Laredo, Texas, USA, is going to offer the best of everything, including immediate billing, short notice availability, and 24/7 customer service and support.